Making BBHS history while finishing a 7-3 season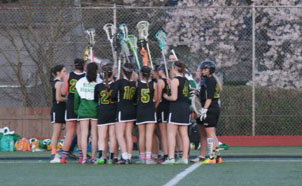 Hang on for a minute...we're trying to find some more stories you might like.
"It's sad the season has come to an end so quickly,"  said head coach Anna Gustafson, "but I couldn't be more ecstatic with the outcome of the season."
Over the past two weeks, the Brave girls' lacrosse team played four games, losing two and winning the remaining two. The first game was faced against the Ingraham JV team on Saturday, April 23rd, which ended in a 14-8 loss. Major goals of the game were scored by Morgan DeMeulemeester, Laura Simmonds, Molly Olney, Sophie Butler, and Rory Knowles. Doing an outstanding job protecting the goal, Katie Cogar showed off what she does best with 10 saves.
On Tuesday, April 26th, the team left the field with a win over the Newport-Sammamish-Interlake team 13-11. Freshmen, Lindsey Rappe and Rayden Berge, performed in the goal with numerous amazing saves. Goals were scored by Sophie Butler, Olney, DeMuelemeester, Simmonds, Alina Gemza, and Anabel Roza. Leading scorer throughout the game was senior Roza, with 5 goals in overall.
"I enjoyed coaching the team this season because everyone was eager to learn," said Gustafson. "Nearly 15 of our players scored goals this season, 4 different girls played goalie and our defensive unit made big plays all season long."
Following the game on Tuesday, the team took yet another outstanding win over the North Olympic team 15-4. Seen in the goal was freshman Kristina Binder, with 6 saves total. Goals that contributed to the game were scored by Belle Thornburg, DeMuelemeester, Butler, Simmonds, Roza and Olney. An outstanding game was played by sophomore Gemza, who led the team with 5 goals.
"I played the game as if it was my last and prepared for this game like any other," said Gemza. "Several girls on the team accomplished goals they have been working on all season and it truly was a great thing to see."
On Tuesday, May 3rd, the lacrosse team closed their season with a 14-11 loss against Lake Sammamish. Final goals were scored by DeMuelemeester, Olney, Gemza, Knowles, Roza, and Simmonds. Protecting the goal was Cogar with 3 saves and Kristina Binder with 6.
The team concluded their first ever season on a fantastic note, finishing 7-3. The team would like to thank all the fans that came out to support throughout the season.
"I would love to give a big thank you to our senior captains for their dedication to the team, Laura Simmonds who has never played before became a force to be reckoned with, and Anabel Roza who chose to come back and lead the Blanchet team to an amazing inaugural season," said Gustafson. "I also couldn't have done any of this without my amazing assistant coaches, Tony Olney and Scott Demeulemeester."

About the Writer
Meredith Beach, Reporter
Meredith Beach, a senior at Bishop Blanchet High School, is an active participant in school-based extra curricular activities. This is her first year as...