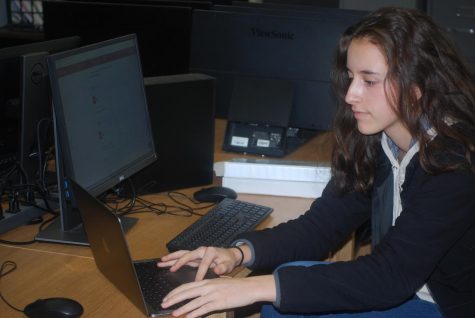 Clara Costa is a senior at Bishop Blanchet. This will be her second year working with the Miter and she is excited to create interesting content with a new group of journalists. A main goal Clara has this year is to work towards making 
The Miter
the best publication it can be. Clara loves attending Blanchet sports events and cheering on her peers. She also loves being a part of Blanchet Drama´s Publicity and Marketing Team as well as being a freshman mentor for Brave Connection. In her free time, Clara loves hanging out with her dog, Jenny, and following current events. Her favorite publications include:
The New York Times
,
The New Yorker, and Beme News.
 Clara believes that it is important for students not only to know what´s going on in their local community, but also to know what´s happening in the world around them.
Clara Costa, Editor
May 22, 2018

Blanchet Responds to Autonomous Sensory Meridian Response

(Story)

May 17, 2018

The Miter Interprets Childish Gambino's "This is America"

(Story)

Apr 24, 2018

Reliance on Antibiotics Shows Danger for the Future

(Story)

Apr 05, 2018

Voting to play an important role in modern day activism

(Story)

Mar 19, 2018

Prisons Should Provide Education for The Incarcerated

(Story)

Mar 05, 2018

Denied Refugee Status in US, Iranians are Stuck in Limbo

(Story)

Feb 27, 2018

Marjory Stoneman Douglas' Survivors Fight For Justice

(Story)

Feb 27, 2018

Charlottesville Rally Planners Are Being Tried in Court

(Story)

Feb 05, 2018

India Provides Option to Greatly Improve Access to Quality Health Care

(Story)

Jan 04, 2018

FCC Repeals Net Neutrality

(Story)

Dec 11, 2017

Why Trump Should Have Just Stopped Talking

(Story)

Nov 20, 2017

Zimbabwe Holds Potential With The End of Mugabe's Era

(Story)

Nov 08, 2017

Trump Plans to Terminate Program That Has Helped Millions Because of One Individual's Actions

(Story)

Oct 16, 2017

Rohingya Refugees Flee Myanmar

(Story)

Oct 04, 2017

Harmful Effects of Cow's Milk on the Human Body Becomes More Prevalent

(Story)

May 08, 2017

JV Boys' Soccer Recovers From a Tough Loss

(Story)

May 08, 2017

Superstar Matthew Campbell Kicks for Life

(Story)

Mar 18, 2017

Is Vaping Actually Safer Than Smoking?

(Story)

Mar 06, 2017

Love Life Week Honors the Dignity of Many

(Story)

Feb 13, 2017

JVC Girls Dribble Out of the Season with a Loss Against Kentwood

(Story)

Jan 31, 2017

Dancing the Night Away at Winter Ball

(Story)

Jan 27, 2017

Cast and crews for Animal Farm takes shape.

(Story)

Jan 12, 2017

JVC Girls' Basketball Play Aggressively for a Surprising Win Against Rainier Beach

(Story)

Dec 12, 2016

Comeback Season is Approaching JVC Girls' Basketball

(Story)

Dec 05, 2016

Despite the tough outcome of their first game, JVC plans to bounce back.

(Story)

Nov 09, 2016

Girls Golf Advances to Districts

(Story)

Oct 17, 2016

Girls Golf Advances to Metros

(Story)

Oct 03, 2016

Blanchet Student Opinion on the 2016 Presidential Election

(Story)

Sep 18, 2016

Girls Golf Off to a Great Start

(Story)