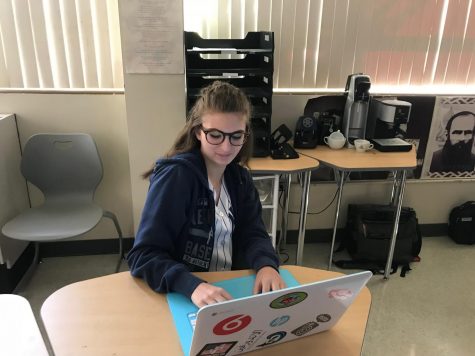 Maddie Gudrian is entering her senior year at Bishop Blanchet High School. She is excited to be an editor of The Miter, The Miter Mag, and The Pallium 2019.
Maddie is looking forward to writing political, social, investigative, and local news articles. As an editor, she hopes to expand her creativity in her writing, help and collaborate with her staff, learn from her staff for The Miter and The Miter Mag.
As a yearbook editor, she hopes to create the best and most creative yearbook that Bishop Blanchet has ever seen.
She likes to read The Wall Street Journal, The New York Times, CNN, The Washington Post, and BBC News. She watches World News with David Muir, NBC Nightly News with Lester Holt, and the local news on a daily basis.
Maddie Gudrian, Editor
May 27, 2019

Anti-Vaxxers are Idiots

(Story)

May 18, 2019

Master Archie Harrison Mountbatten-Windsor…Wait What?

(Story)

Dec 03, 2018

Juuling in School Doesn't Make You Cool

(Story)

Dec 03, 2018

Climate Change: Will It Really Affect the Economy?

(Story)

Dec 03, 2018

Should John McCain Be Considered a Political Maverick?

(Story)

May 29, 2018

Prince William and Kate Middleton Welcome Baby #3

(Story)

May 29, 2018

Bumbershoot 2018 Lineup Release Caused Mixed Feelings

(Story)

May 22, 2018

Texas Shooting Not a Surprise

(Story)

May 17, 2018

Pele Comes to Life

(Story)

May 10, 2018

Seattle on the Silver Screen

(Story)

Apr 30, 2018

Comey's Higher Loyalty to His Country

(Story)

Mar 20, 2018

Seattle Students Fight Back Against Gun Violence

(Story)

Mar 20, 2018

JV Baseball Hits a Homer to the New Season

(Story)

Feb 27, 2018

This Is Us Makes Millions of People Cry…Again

(Story)

Feb 05, 2018

Blanchet Boys Swim Locks in State by Beating O'Dea

(Story)

Jan 11, 2018

Iceland Takes a Step Forward in Closing the Pay Gap By Fining Companies Who Underpay Females Based on Their Gender

(Story)

Jan 04, 2018

Student Director Chiara Procaccio Drops Some Hints On Her One Act

(Story)

Dec 11, 2017

NASA's Voyager 1 Turns On It's Backup Thrusters After 37 Years

(Story)

Nov 16, 2017

Thor Ragnarok (Hulk) Smashes the Box Office

(Story)

Nov 08, 2017

Girl's Varsity Soccer Kicks This Season Behind Them

(Story)

Oct 02, 2017

Girl's Varsity Soccer Takes A Hard Win Of 2-0 Over Nathan Hale

(Story)

Sep 21, 2017

Bishop Blanchet Girls Varsity Soccer Beats Eastside Catholic 4-1 In Comeback Game

(Story)