Pins Flying, Twins Flying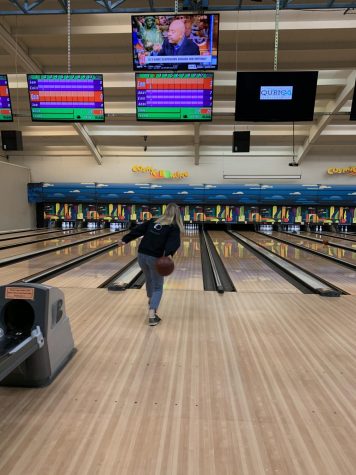 The Ludden twins are an ideal pair, but once they step foot in a bowling alley they are each other's greatest competitors. Emily and Addison Ludden became members of the Blanchet bowling team during their freshman year.
Since 2008, their tradition has carried on to spend quality sister time bowling. In senior year, they made a conscious effort to cherish their spare time together before they split for college next year.  They both love to bowl and hope to continue their tradition until they grow old. 
"My dream when I grow old is to continue my family tradition of spending family time bowling with my future children and my twin's family," said Addison Ludden, "Similar to my family, the Blanchet bowling team prioritizes sportsmanship, competition and team bonding by the school community spending time together after school to have fun".
The competition between the sisters does not disrupt the new connections they make with incoming freshman and bowlers. They have competed with the same friends they met freshman year and welcomed new students to join the team. Mr. Tobi McGill, head of the bowling team, cheers on the students and encourages everyone to practice sportsmanship.
"I would have never thought there would be a bowling team in high school," said Emily Ludden, "but,  I knew it was the perfect opportunity to meet new people and continue playing with my sister once I heard about it".
Emily Ludden naturally has been a great bowler growing up. She loved to compete with her sister and spin some fun in the alley. They would spend their childhood birthday parties at Lucky Strike in Bellevue Square.
"I love bowling, it is right up my alley," said Emily Ludden, "I would strongly encourage all students of any grade to join the team because it has positively shaped my high school experience."
The bowling team welcomes students of all skill sets and offers a great community to spend time with friends by bringing together the Blanchet community. Come join, all are welcome!
About the Writer
Maya Quinanola, Reporter
Maya Quinanola, a senior at Bishop Blanchet High school, loves to stay updated on current events from the New York Times, NPR, and CNN. She is an active...