Swim Team becomes a sisterhood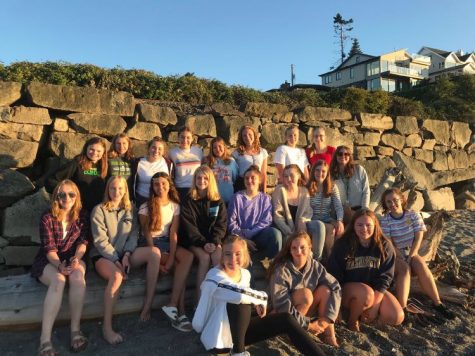 Just as the 2019 captains were handed down the throne to lead the swim team, the Bishop Blanchet students bring their spirit into the swim team. 
The captains, Celina Allen, Frannie Allen, and Sydney Jensen, are on to an excellent start as they plan several team bonding activities to encourage self improvement throughout the entire team.
Kicking off the girls swim season, not only are they dedicated to improving the swim community outside of school, but also strive for each member to see self-improvement. The upperclassman encourage the team to support in meets and practices as well.
"No matter who's racing, their event, or the heat they are in , there are always people cheering them on," said  Celina Allen. "When you break your own record all the team starts screaming and cheering for you"
Bishop Blanchet offers an all inclusive swim team open to swimmers from all levels.  Frannie Allen is under the pressure of living up to the previous captains, but prioritizes creating a healthy and fun environment. 
"Right now we are really excited to work on our next bonding activities to build on the community [such as] secret buddies and a scavenger hunt / movie night," said  Frannie Allen.
The captains continue to set a positive example by bringing sisterhood to the races.
"Swim team is kinda like an all inclusive sorority," said Frannie Allen.  "We accept anyone, no matter their skill level which I think is pretty cool." 
About the Writer
Maya Quinanola, Reporter
Maya Quinanola, a senior at Bishop Blanchet High school, loves to stay updated on current events from the New York Times, NPR, and CNN. She is an active...