Big Changes Coming this Year for Journalism!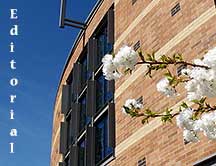 This year the journalism team will strive to give voice to all the voices that are trying to be heard at Blanchet. With a strong, full, staff this year, we will be reporting the stories of the students and staff in this building.
 This school year, the goal is to write compelling stories, and to have The Miter website  be something that students are dying to read. We want to find stories that haven't been told yet, and shine some light on them. 
We plan to conduct impelling interviews, to accurately compose our articles, remain true to our high journalistic standards, and take compelling photos.
We want to get all opinions we can and have all students represented equally.
Our plan is to produce six Miter magazines, filled with informative articles  and compelling photos.
Another way we plan to execute great journalism is to deliver the truth to the student body. We can achieve this by quoting students and staff, and writing unbiased stories. The reason we want the stories to be unbiased is because the job of journalists is not to put our own take on current events- unless it is an opinion piece- but to report it. 
Our students and staff deserve to know the happenings at Blanchet so they can form their own opinions, and hopefully discuss what we wrote with other students. This year we want to continue to grow as individuals, but also together, because that is what Blanchet is all about, unity and community. 
We will take our jobs seriously and write honest and balanced stories. The Miter's hope for this year is to educate students and from that they will form their own opinions, share them, and together we will become a more together and open minded community. 
About the Writer
Julia Stander, Editor in Chief
Senior and editor, Julia Stander, now in her second year working for The Miter, gets her news through HNL and CNN. She reads Time magazine to catch up...