Cactus offers a fiesta for your taste buds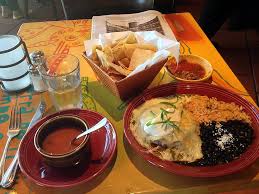 Cactus is a great tasting Mexican restaurant that provides fantastic takeout during these uncertain times. 
Cactus is a Mexican restaurant with multiple locations in and around Seattle. They are known for their slightly upscale, delicious Mexican food. They have a large takeout menu available during these crazy times where everyone needs some good comfort food. 
"Cactus is my favorite restaurant," said senior Alex Prescott. "Their food is amazing and is always ready super quick." 
Cactus is not only giving takeout, but is doing it in a great way. Once you order, you go to the restaurant and sit in your car until they text you. Once you receive a text that your food is ready, you are able to go pick up your food off their doorstep. With all the worry surrounding Covid, one can be sure that they are as safe as possible when getting takeout food from Cactus. 
"I love ordering from Cactus because I feel safe picking up my food," said junior Grace Courter. "And not to mention the food is delicious." 
My family has ordered food from Cactus multiple times during quarantine, and the food never fails to impress. My dad loves their burritos which are not only good for one meal, but make for great leftovers! My favorite dish is the mushrooms fajitas which are vegan and are filled with fresh, incredible tasting vegetables. Their chips and guacamole are to die for and are a side you must add onto your order. Overall, Cactus is an amazing option for takeout during quarantine.
About the Writer
Katie O'Kane, Reporter
Katie O'Kane, a senior at Bishop Blanchet High School,  loves to read the school newspaper and is very excited to now be able to help write it. She enjoys...