Blanchet Students Adapt to Being Back in the Building
Although Blanchet is back, it doesn't mean normal is. Blanchet is back in business and back in person, but with plenty of difficulties. Some students of Blanchet have strong inputs on our new COVID safe school and others only know this version of high school to be their version.
Bishop Blanchet students are back in the building and everything is up and operational. Students and faculty still have guidelines and rules to follow to make sure everyone stays safe and does their job to get Washington maskless once again. Digging deeper into the school year will change students' points of view on how our school is dealing with covid, as for the beginning of September, most students seem to be going well with all these new guidelines and everyday expectations.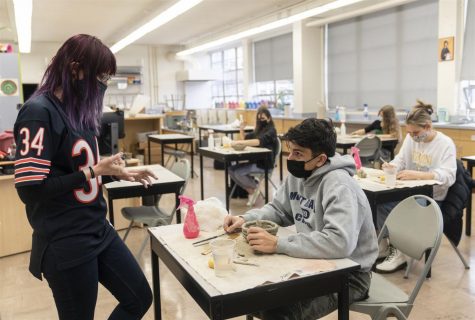 As this student directly says, BBHS and all of its faculty are really doing their best to make sure we can stay the way we are and keep moving forward and away from digital learning. Junior Heidi Krager: " I think Blanchet has done really good to keep the students safe and as back to what it used to be as possible",  Blanchet and its community are not at an easy place, hearing their students truly believe in them and what they are doing goes a long way to rebuilding Blanchet. 
Our school has created the safest environment possible for everyone who is a member of our community. As much as everyone would like to get back to normal, some students still think there is more work to be done.  Junior Sullivan Palm says " I think they could do better with social distancing but otherwise I like it".  Just like Palm says, not all students are fully sold on the idea of being back and they still have their reasons to be concerned for the future. With everything said, the students and faculty for sure have their differences of opinions while trying to get back to normal. 
The Blanchet students and faculty hope to be maskless at some point this year but obviously, we have to do our job to make sure that is achievable. Junior Quinn Iudice " I don't really care about the changes, I just follow the rules if it means I still get to go here". Similar to what this junior is saying, there are several students who are not super affected by our new protocols and are just happy to be in the building.
It's very clear to see, students are going to have to continue to learn and adapt to our new protocols and keep being safe to assure a successful and in-person 2021-22 school year.