Sound Transits Expands Speedy Lines of Transport
The people of Seattle have been searching for more efficient daily transit and come October 2021, they just might get what they need. On October 2nd, the new Roosevelt, U District, and Northgate Light Rail Stations opened, to add to all the current lines already running in Seattle.
Light rails have become a big part of transportation all around America to help the environment and to have more efficient transit. A study was done by the U.S. The Census bureau showed that the average time commuters spent getting to work in Seattle was 28.4 minutes. The new Light Rails are going to eliminate a large chunk of that and will get more cars off the highway.
As I went to visit the new Roosevelt station, I spoke with all the Seattlites who were just as excited as I was to get the first look at the new train.
A man named John (did not disclose the last name) said, "It's great that Seattle is taking climate change seriously with the new train system, plus no traffic".
This citizen makes a fantastic point about Seattle being very passionate about having an environment-friendly city and will do anything to do so. The first light rail in Seattle was built 12 years ago in July of 2009, this was the Central Link line. The Light Rail system in Seattle has been growing over the years and really is great for the city, and has truly become a more efficient transit.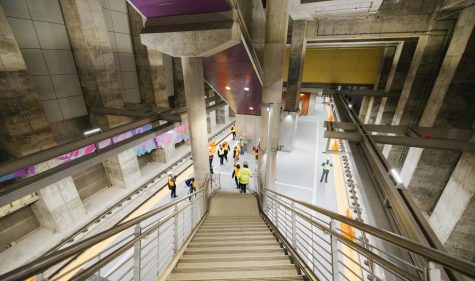 In 2018, 89% of recorded cO2 emissions came from fossil fuels and industry ( This includes automobiles). An alarming number to look at for sure, and the city of Seattle clearly agrees. You can really tell who cares about the next generation when you see Seattle doing things like the Light Rail, to save the environment, even if it's only a small part of it. Railroads have been a part of American and worldwide transit for over 200 years, and they have evolved so much over time. History has shaped trains into what they are today and these new light rails are exciting and a great upgrade of transportation in Seattle. The city of Seattle was placed in the top 25 cleanest fossil fuel emission cities in America and it has achieved that placement over time with progressions like these light rails.
Putting everything in perspective, these new rails that opened October 2nd, are going to be a huge piece of Seattle and a truly great addition.