Let the Dances Begin
Bishop Blanchet Bears Dance Team dance to keep up tempo at the first in person competition of the year.
On February 5th the Blanchet Dance team traveled to Heritage High School in Vancouver Washington for their first in-person competition since 2020. 
It is a special celebration they participated in their first WIAA Drill & Dance competition of the season. The Bears dance team won the award for farthest team travel.
During the week before the competition, captains O'Connor and Lumbab, along with freshman Addie Laton, ran practice with coach Alanna Vann on Zoom. In preparation for this competition, O'Connor explained the importance of preparation, saying "We were basically having to clean the dance and practice formations in the gym. Because the space that we practice in isn't big enough because we compete on a gym floor. And then other preparations include, getting costumes and with the costumes figuring out hair and makeup looks."
The Dance team has a strong sense of community. Both Senior Emma Zuccolotto and O'Connor express how the competition strengthened this sense of community. "During the preparation, we were kind of stressed out. Stressed for the competition and being able to prepare for the competition with the lack of a coach and having a freshman in charge of everything," Zuccolotto explained. "I think the competition was a good team bonding experience. We had to keep patient with each other while also really trying to work with each other. Because we didn't have our coach to regulate us. So, we had to step it up and be focused. Along with that the girls played the famous card game 'For the Girls.'"
Dancing against a total of 10 teams and a total of 29 routines that took the floor, the dance team was only 10 points away from a trophy in the hip-hop category for their routine, "Let the Games Begin", and one place away in the dance category for their jazz routine, "I've Got You Now." The Bears dance team won the award for farthest team travelled.
O'Connor summarizes her competition experience by saying "It's pretty stressful. We're never 100% ready. So, we got to it, pulled it together, right away. During the competition we get there, change, do hair and makeup. Then we practice for about an hour. And then we do our first performance, then change. Practicing for our second dance, then performing it, after all that, it's time to de-stress."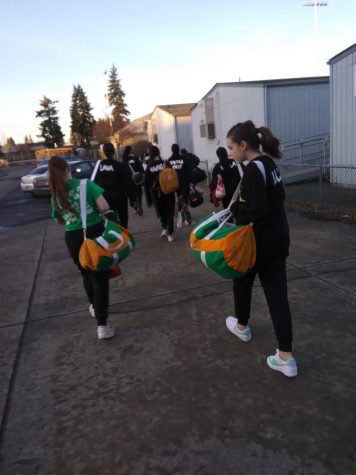 The girls of the Bears dance team joined for different reasons and at different times.  O'Connor said she joined her freshman year in 2018 "Because I just wanted to try out, I didn't think that I would get on. But when I did, I was very surprised. So, I quit cross country for that. And then, I just stuck with it because it was fun, and I really liked dancing and I saw it as an opportunity to grow." Zuccolotto joined earlier this school year as a senior, explaining "I joined the dance team pretty late, well later than the other girls. It was maybe October. As for why it was because I love dancing, I can be myself and I can communicate with other people with my body. I can fully be myself when I dance."
Now the Blanchet Bears Dance team are preparing for February 29th, when they will compete to earn a qualifying spot in the District Competition.