Changing the Mascot Again?!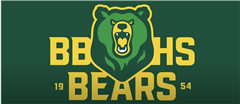 After this crazy couple of years, Bishop Blanchet has decided to change the moniker for a second time. Here's the background:
In 1954 Bishop Blanchet opened its door for the first time. The took up the moniker and mascot, the Brave. Years later they change it to the Bears in the school year of 1995-1996. It didn't last long though the following school year they tried to combine Brave and Bear to make Brave Bears but that didn't stick either. So back to the Braves it is. But in 2020 the Bears started talking with the Multicultural Affairs Council and the tribal leaders in the area, they had to change the moniker. In the school year of 2020-2021 they got rid of the moniker all together, creating a council to find a new mascot and moniker. And finally, January 26th, the Announcement: Bishop Blanchet is now becoming the Bears.
Earlier this week, Tradition Week, the Miter team was told about this change. The link below shows you the photos of the new mascot!