Dougherty Sets Sail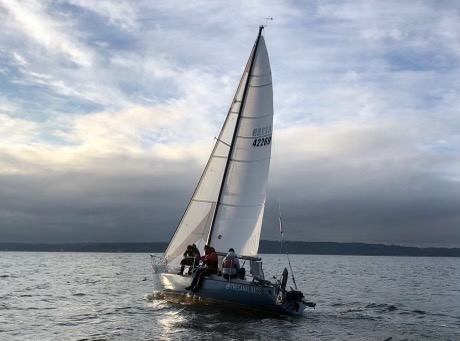 The sun beating down, wind in the air, and the swells of the ocean under the boat. The life of a sailboat racer is nothing short of exciting– and tiring.
The Race to Alaska, North America's longest human and wind powered race, takes sailors through the inside passage of Canada up to Alaska. This race is extremely difficult, while also rewarding. The competition is all in the spirit of tradition and sailing. With rules against no safety motors, and only self supported provisions allowed, this race takes all you can give. In 2019, 45 teams were accepted to race, and only 25 finished. While not for everyone, joining the spirit of the racing lifestyle is one of Blanchet's own– Sebastian Dougherty. 
Sebastian has been sailing for most of his life. For the last 10 years, he has been sailing in dinghy boats. In 2018, Seb joined the Corinthian Yacht Club race team, starting his racing journey. Dougherty started sailing in big boats last year, leading to his next adventure, the Race to Alaska. He was invited by fellow race team members to be on the crew for the race. 
"I feel like the race will push me and I'll learn a lot from it," said Dougherty. 
Sebastian wants to test his skill and prove himself as a good racer – who is not just constrained to dinghy boats. 
His team, Team Rite of Passage, consists of four teenage sailors, including Sebastian. Embarking on June 13, they will sail the inside passage up to Alaska. While not an off-shore race, it is different from anything Seb has experienced in the sailing world, as he has only competed in one overnight race. In their Santa Cruz 27, the team hopes to make it to Alaska in seven to ten days, but know very well it could take up to two weeks. 
Dougherty's adventure will be one great experience, just ten days after his graduation on June 3rd. He will spend the first part of his summer on the water, through Canada and up to the teams final destination, Alaska. Seb isn't guaranteed anything without hard work, which he will have to put in. There is no sure date when he will return, but we wish him good luck and safe travels!