JV gem should bring big plus to next year's varsity
Molly Miska, sophomore at Bishop Blanchet, is one of the starting JV soccer players for the lady Braves team.
Everyone has their niche in life, and for Miska that is soccer. 11 years of the same sport is quite the commitment and requires dedication and hard work, "It's a great way to make friends and I like the aggressiveness of it," said Miska.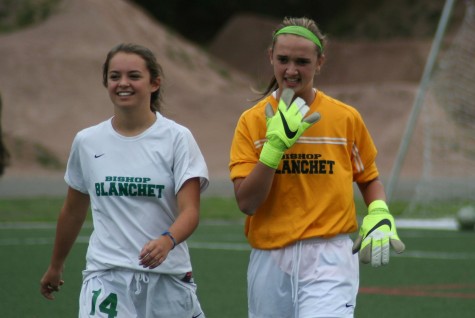 The JV girls soccer team ended their season with a record of 9-4-1, Miska had valiant efforts throughout the season. " I think the season went well," said Miska, "we had a lot of wins and few losses, but overall all of the girls played very well and improved."
Having played soccer for more than half of her life, Miska is experienced in a multitude of positions. She plays center back, offensive mid and right forward, whenever necessary, for both the Braves and for her club team.
When Miska is not playing for the Braves soccer program, she is still playing soccer, but for her select team, Seattle United.
Aside from her busy schedule, balancing school and sports, she spends a lot of time with her friends and attends many school sponsored events such as, football games, dances and other team games.
As a student- athlete, Miska enjoys history and all the teachers within the history department because of the interesting lectures and fun activities that they give the students. "Our history department at Blanchet has the best teachers," said Miska.
Being a part of the Blanchet community is definitely a blessing, and Miska agrees, "I love how everyone is very welcoming and accepting." There is no better school environment to be in and one
that has copious amounts of school spirit, whether in the halls, on the field or in the classroom, " I also like the community and how everyone shows school spirit," Miska proclaimed.
About the Writer
Emilia Zottoli, Reporter
Emilia Zottoli, a senior at Bishop Blanchet High School, will be juggling a full schedule in the upcoming year. With classes, year- round lacrosse, volunteer...