JV Football Refocuses After Loss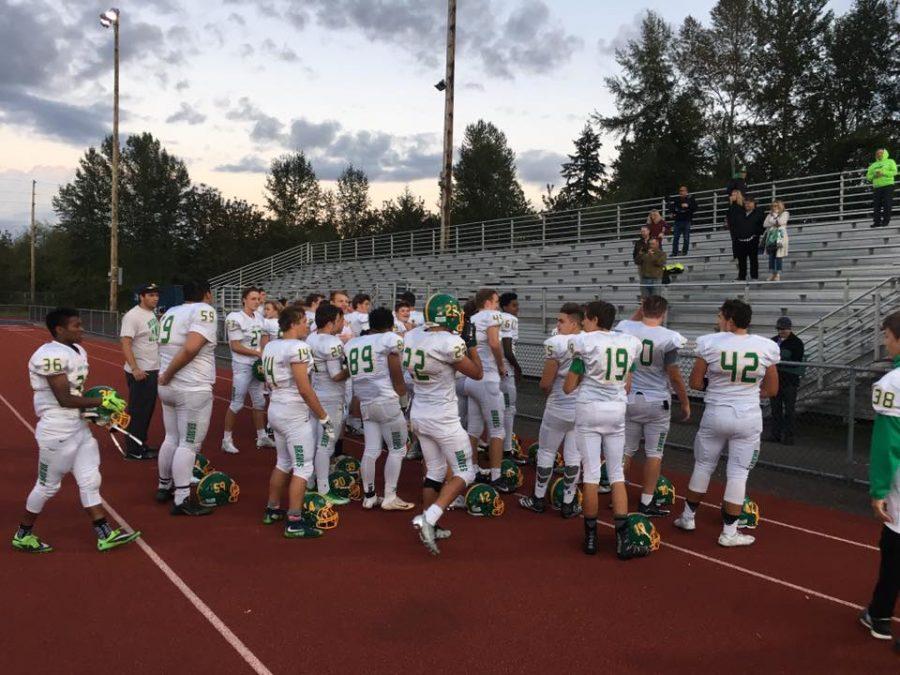 The JV football team is currently at 2 wins and 3 losses, with back-to-back victories followed by consecutive losses.
With only two more games left in the season, they are looking to put their best foot forward and learn from their mistakes. Their first two losses, against O'Dea and Bainbridge, were both close with the latest going into overtime in what the coach called a "heartbreaking thriller". After several player injuries, the team has definitely suffered a few setbacks.
However Dominic Salle, the JV coach, is excited for the next games. He mentioned the fact that two of the three, Eastside and Prep, are both teams our school is more familiar with.
"They'll be high emotion, high intensity games," he said, "and hopefully with that excitement we will be pumped up and come out ready to reel… Hopefully the three more games can be three more wins."
On their Monday game, they lost against Eastside Catholic with a score of 50-6. Although they did not secure a win, they will go to their next opponent with the same positive spirit.
"Next week's game is like any other and we're going into it the same as any other," Jack Donahue said.
The same goals for the team apply even when playing after three losses. Mr. Salle says that going into the next games, they just need to refocus and minimize mistakes. He puts the focus on learning, win or lose. Jon Williams, a JV senior, echos his commitment to the team spirit, and to putting in the same effort as any varsity level sport.
"I want to make Monday nights feel like Friday nights," Williams said, "by bringing the same energy, bringing out fans, and encouraging [the team] to look forward to playing."
Their next game is against Nathan Hale at home on October 17 at 5:00pm.
About the Contributor
Sophia Petrucci, Reporter
Sophia Petrucci is a senior at Bishop Blanchet High School. She is part of the art club and a member of Voices; this year, she is also looking forward...