"Generous" offers a sign of star potential
Hang on for a minute...we're trying to find some more stories you might like.
Olivia Holt, one of Disney's newest pop sensations, has dropped her second, adventurous single "Generous" on September 22, 2017.
The song collaborates R&B alongside alternative pop allowing the single to be much more impactful than previous ones she has released. She struggles to deliver fulfilling songs leaving listeners feeling like something was missing but came forth with a more complete product this time around. She has a tendency to copy the styles of other artists but seems to be creating her own image finally.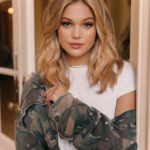 "So stoked to finally share this with you guys…" she tweeted.
All in all, Olivia has worked alongside A-list artists giving her great publicity at an early point in her musical career. There is a lot of upside potential for Olivia Holt to blow up in the music industry.