Blade Runner 2049 Crashes into Theaters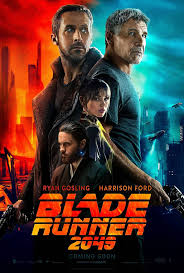 Hang on for a minute...we're trying to find some more stories you might like.
The new Blade Runner 2049 picks up where the original left off, providing stunning visuals, exciting scenes, and a complicated story very difficult for a casual viewer to understand.
This two hour and forty-four minute movie begins with some much needed background, giving the audience insight into the world of Blade Runner. However, even with this new understanding, the plot is so convoluted, casual watchers will be instantly lost. Blade Runner 2049 is not for the novice moviegoer, full attention to the dialogue, and visual clues must be held to fully understand and appreciate the story. However, for the willing, the new Blade Runner 2049 provides an interesting and provocative display of the future, while showcasing special effects at the finest.
Blade Runner 2049 starts out following a replicant, more specifically a blade runner called Officer K, hunting down and killing another replicant. In this universe replicants are robots designed to look like humans, created to serve people by performing a variety of tasks. Many of the replicants, however, were not willing to act as humanity's slaves and hid away amongst their creators to try and live normal lives. This is where blade runners come in, they are special police officers tasked with identifying and either killing or detaining rogue replicants.
See what I mean with the convoluted plot, not even twenty minutes in and if you didn't know that small detail you would be lost. Well, when Officer K, played by Ryan Gosling, finally kills the replicant in the opening scenes he searches the home the replicant was living in.
Officer K uncovers the remains of a replicant who died due to childbirth, something that should be impossible for replicants. Without spoiling too much of the storyline I'll only add that this discovery sends the rest of the movie in motion, everything revolving around discovering who the child is.
"The movie was really cool to watch," Said Will Fleming. "I enjoyed the different set pieces, but the story was so complicated I felt lost at some points. I remember watching and when the big ah-ha moment of the movie came where things are supposed to finally make sense I still felt lost."
Overall Blade Runner 2049 is not a bad movie. It is put together containing an all-star cast including big names like Harrison Ford, Ryan Gosling, Jared Leto, and many more. The visual effects were outstanding, showcasing beautiful settings like the neo-noir cities of the future to the abandoned wastelands of the old world. For me, personally, I thoroughly enjoyed my screening of Blade Runner 2049. I was able to follow the plot relatively well, but the feeling of confusing was well with me hours after the end of the movie before I could affirm I truly understood everything that happened. Watching this movie a few more times would definitely help, and this is where the true issue with Blade Runner 2049 lies. Like previously mentioned, Blade Runner 2049 is complicated, this in of itself is not a bad thing, many amazing movies like Inception and Interstellar boast a complicated plot, however nowhere near this movie. So, if you are looking for an aesthetically pleasing movie to watch or a complicated engrossing plot to invest in Blade Runner 2049 is the movie for you. I would recommend watching the original if you plan on investing in the plot, make sure to do your research first though because the original has over five different versions to chose from, each edited in their own unique way.

About the Writer
Jason Knoblich, Reporter
Going into his senior year, Jason Knoblich makes his debut as a reporter for The Miter. Completely new to journalism, Jason hopes to sharpen his journalistic skills and improve on his writing ability. To gain some background on Jason and understand who he is, it's critical to know of his love for sports. He's played sports all his life, and at Bishop Blanchet High School, he was able to play football and basketball for his first two years until deciding to pursue his running career. He's now been running cross country for two years and going into this year's track season he'll have been running for four years. Besides running Jason enjoys spending his spare time watching the Bishop Blanchet football team and spending time with friends.