"Isn't there anyone who knows what Christmas is all about?"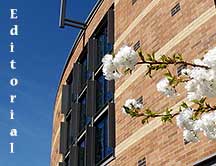 Hang on for a minute...we're trying to find some more stories you might like.
It is time for the third Advent candle to be lit, but how many Christian families have done this?
Too busy, running from sale to sale, people forget the true meaning of Christmas.
To Christians, Christmas is the pinnacle of the liturgical calendar. Celebrating the birth of Jesus is key to Christian communities as we believe He is the Son of God come to free us from sin.
The idea of Santa Claus did not come until much later in human history, and today the image of a jolly, old man clad in red and white has become a spectacle for consumerism.
One does not need to be Christian to celebrate the true meaning of Christmas. Only half of The Miter staff attends Christmas Liturgy. Showing love to others, especially those who are less fortunate, spreads the joy associated with the holiday season.
This is not a time to stress, but a time to be cheerful, be grateful, and be giving of yourself. Do not worry about what you will give, but how you are going to give it. How much of a commitment does it show to the other person?
As most schools and businesses receive this time off from work, take some time to reflect. Instead of material goods, give someone the gift of your time. Christmas provides many families with the opportunity of simply being together and enjoying one another's company.
Written Dec. 15, 2017.

About the Writer
Julia Weinand, Editor
As a senior, this is Julia's second year on The Miter staff. Promoted to editor, Julia is excited to take on the challenges of this new role while still...