Blanchet Girls Lacrosse Opens 2019 Season With High Expectations
The Braves look to senior leadership, an experienced roster, and excellent coaching for a 2019 playoff push.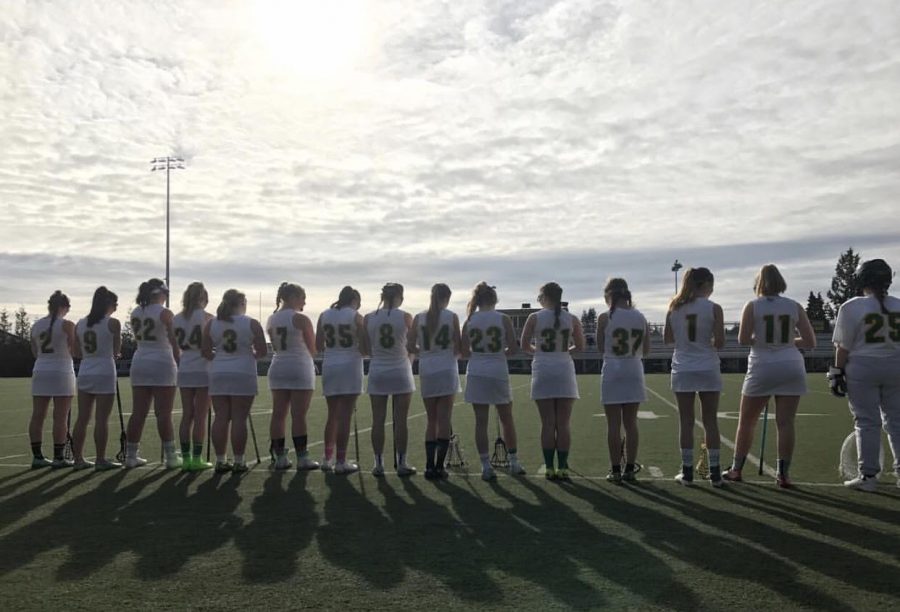 Bishop Blanchet Girls Lacrosse, Originally Published by Cole Thomas
March 4, 2019
Coming off of an impressive 8-5 2018 season, the third-year varsity Bishop Blanchet girls lacrosse team will set its eyes on a 2019 playoff run. Returning 13 players from last year's squad, the Braves have high expectations for the upcoming season.
Keys to the Braves' success in 2019 begin in goal with senior co-captain Lindsey Rappe who brings experience and leadership between the pipes. Rappe takes an impressive 50% save percentage into the season and is a top candidate for league-wide goalie honors. Senior co-captain and Redlands University signee Sophie Butler (first team all-conference) will return to midfield and the draw circle with plans on dominating possession. Butler won an impressive 63 draws last year to add to her 35 goals and 10 assists.
The Braves have balanced senior leadership on both ends of the field. On defense, three seniors return who have played together since the inception of the team in 2016. Co-captain Rayden Berge and the senior tandem of Katie Cogar and Bridget Olney are expected to provide solid play in support of Rappe. On the offensive end, co-captain and senior Molly Olney (14 goals, 5 assists) will run the offense that averaged 12 goals per game last season.
Rounding out the lineup are an outstanding group of underclass players who played pivotal roles in last year's breakout season. Junior Logan Gray (first team all-conference), the team's leading scorer last year with 42 goals, will challenge as one of the league's top scorers and overall players. Gray is a Division I candidate looking to solidify her position as an elite lacrosse athlete. Sophomores Fiona O'Donnell, last season's leader in caused turnovers with 26, and Reilly Cartwright bring a wealth of experience despite their young age. O'Donnell made the league all-star team last year. Cartwright is a solid and reliable midfielder who transitions the ball with easy.
Excitement abounds amongst the coaching staff as they welcome a solid batch of young players. Roosevelt transfer Ella Zarek adds enthusiasm, desire, and varsity experience to the Braves, playing in 12 varsity games for the Roughriders last season. The top JV scorers from 2018 have moved up to the varsity level with sophomore Anna Cogar joining her sister Katie and sophomore lefty Noelle Brems brings her natural goal scoring abilities to the team. Freshman newcomer Haley Blair impressed coaches at the varsity tryout, earning a varsity roster spot. Blair is an experienced youth and club player.
Other returning players looking to make an impact on this year's team are seniors Peyton Weber and Belle Thornburg. Both have been with the team since the its inception and have played important supporting roles. Junior Anna Todd will look to bounce back from a nagging late season injury and has high expectations for this year. Kaitlyn Crouser was a surprise addition to last year's varsity team with her hard work and willingness to learn making her stand out. She'll look to continue her impressive play.
Head coach Anna Gustafson returns for her fourth season with a 17-18 overall record.
"To think just three years ago we had 21 girls on the team with only seven who'd ever played lacrosse before. Now, we have a varsity squad that is solid from top to bottom and a JV team with 22 girls on the roster!" said Gustafson. "It has been an impressive effort by the coaches, players, parents, and others who support the team."
The stable coaching staff is filled out by fourth year varsity assistant Scott DeMeulemeester and fourth year goalie and JV coach Tony Olney. This year, the Braves are excited to add student assistant coach Morgan DeMeulemeester. DeMeulemeester had her lacrosse career cut short by injury, but will continue to support the team in a coaching role.
Girls lacrosse at Bishop Blanchet began in the fall of 2015 when Bridget and Molly Olney, Sophie Butler, and Morgan DeMeulemeester presented a plan to the school for a team. With the help of then Athletic Director Rick O'Leary and interim Athletic Director George Monica, the girls got the go ahead to start a team if they could recruit enough girls to play. Through the efforts of the Founding Four Sisters, 21 girls formed the first ever girls Braves lacrosse team coached by USC graduate Anna Gustafson. Playing at the JV level for the 2016 season, the team went 7-3 in their inaugural year.
2018 saw the Braves top .500 for the first time going 8-5. The second varsity season will be looked back upon as a foundational year. The team was building, winning, and fielded a full JV team that posted at 3-6 record. Just as importantly, the roster expanded to 31 players with a solid group of freshman and sophomores. Key wins included victories over Metro League rivals Ballard and Ingraham.
The team invites you to their home opener March 13th at 5 pm as the Garfield Bulldogs visit Mickey Naish Field. In last year's contest the Braves dominated Garfield 11-3 at Montlake Playfield.