Brave athletes continue in college
Graduating class of 2019 has increased the amount of students pursuing their sports in college.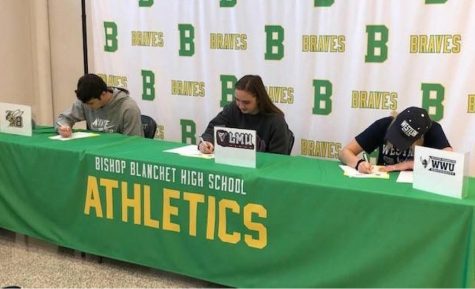 Athletics have been a huge part of Blanchet since 1954; now, the number of students continuing their passion into college has increased. The graduating class of 2019 has as of now eleven students signing to colleges in all three NCAA divisions which gives Blanchet's athletic program more confidence and competitiveness.
For senior Sadie Kenny soccer has been a part of her life for as long as she can remember.
"Playing soccer in college is something that has always been a dream of mine," said Kenny. "But it wasn't something that I considered could actually be a reality until high school. Once I was in high school, my team started to get exposed to the idea of college soccer. We talked about the recruiting process with our coaches and traveled to showcases to be seen by college coaches. This is when it became a goal for me."
Kenny has been on premier club's for years, which give her the ability to train and play in the highest ranking. This enabled her the idea of continuing her passion after graduating, she will continue to play division one soccer for Loyola Marymount University.
Any athlete who has the passion and determination to strive in what they do on and off the field is one of the most important traits to have, without it they wouldn't be where they are today. Being scouted and offered a spot for college takes all four years of high school.
Patrick Harmon, like other committed athletes, had more than one option.
"For me, I used my junior spring break to make trips to over 10 schools I had interest in," said Harmon. I reached out to the coaches at the colleges and expressed my interest in playing football. When I went to the University of San Diego, I got to spend an hour with some of the coaches."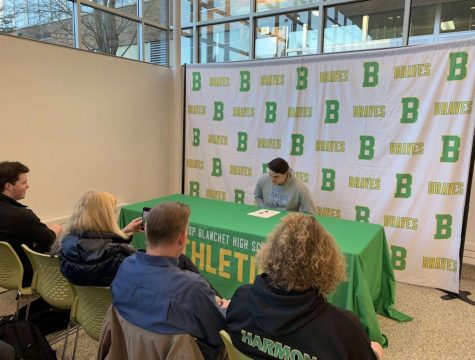 Harmon reached out to schools starting in Junior year, the year that NCAA can legally talk to an athlete on his own instead of having a recruiter helping him. With months of decision making, Harmon realized that USD was the place for him due to their high-ranking athletics but also their dedication to academics.
Other student's do not have the ability to play for Blanchet's teams because of the rules of their club/league. Sadie Kenny and Katie Watt are on the Seattle Reign Academy since 2016, with being one of the most competitive leagues in the state they had to stop playing for Blanchet and focus on their other team. Even without the help of Blanchet, they gained the recognition and attention they deserved.
Watt has played soccer for basically her whole life and knew it was something she wanted to continue.
"I realized I wanted to play college soccer when I joined Seattle United in 2012, said Watt but I didn't realize it could be an actual possibility until I joined Seattle Reign Academy in 2016."
Watt was not able to play sports for Blanchet the past three years to focus on her future in a way that would be the most beneficial. The effort it takes to be scouted is like no other,
"To stand out it definitely took hard work since the recruiting process specifically for women's soccer is so brutal said Watt. I had to constantly reach out to coaches off the field and on the field had to work my hardest every single time I stepped on the field, I still have to. Coaches like seeing that you are a very versatile person, student and athlete so you have to try to differentiate yourself from others who have all those traits coaches are looking for."
With how popular soccer is in the PNW and how many talented athletes are competing for a small number of spots, the pressure is amplified and even with the security of knowing where you are going, showing all you can on the field is the main priority.
Blanchet has some sports that aren't available to play through school but still have the ability to be recognized for their hard work through our athletics program.
For Mackay Johnson, she has been rowing for Pocock Rowing Center since before high school, and during her eighth grade she realized she wanted to continue rowing after high school.
"I realized I wanted to row in college at the end of eighth grade when I watched all the seniors on the team graduate and announce the schools they would row for" said Johnson. "I wanted to be just like them – they were the cool older kids."
The hard work she was able to show in training and in regattas payed off when universities reached out to her. Mackay committed pretty early into the school year, she verbally committed to University of Wisconsin-Madison in early November and on November 14th she was able to celebrate with her family and friends at Pocock as she signed to actually commit to continue her rowing career in Madison.
Like most athletes who are given options to play in college she was stuck between a couple schools before she was set on Wisconsin.
"I was actively recruiting with about seven schools said Johnson. Ultimately it came down to WSU and Wisconsin. I honestly decided Wisconsin super last minute. Like it was a spur of the moment email that I think I sent at like 2am saying I was ready to commit. All in early November."
While Johnson was making a pros and cons list, WSU came on top, but she kept thinking about Wisconsin. "It's an amazing school and I'd have a huge support system if I went there, but at the end of the day – and I know this is cheesy – my gut was telling me Wisconsin. The team is fast and well ranked, the facilities are beautiful, and athletes are treated very well, but most importantly, the people on the team reminded me of where I row now, Pocock, and so it really just felt like home. When I was on my official visit there, I met basically the whole team and felt like I connected with all of them. And that's what crew is."
This year's senior class has some truly amazing athletes that are able to show their skill on our own Mickey Nash field as well on their other teams. The strive and determination they have while making these tough, life long decisions takes time but Bishop Blanchet is incredibly proud and lucky to have these athletes.