Life and Legacy of Patrick Miranda
Recognizing one of Bishop Blanchet's most important figures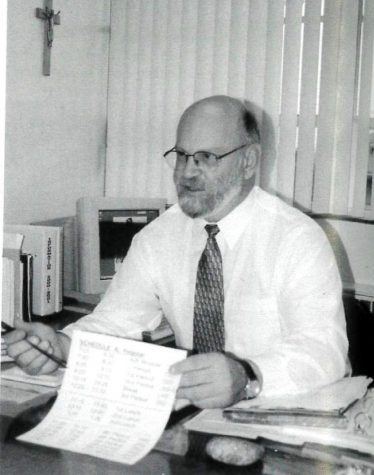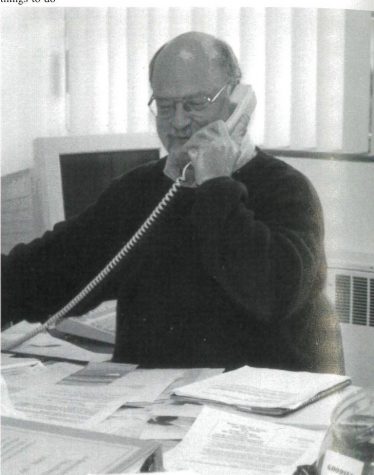 On February 5, 2019, the Bishop Blanchet community was sadly informed that an integral part of its history,  Patrick Miranda, lost his life to cancer.
One cannot talk about Bishop Blanchet without bringing up Pat Miranda and vice versa. The two are intertwined.
Sadly, other than the street sign in the quad labeled with his namesake, most current students have no conception of who Miranda was or what he did for the school.
Miranda was born into a large, Italian-Irish family and had multiple siblings that attended Bishop Blanchet. He was a star running back for the football team and was coached by fellow Brave legend, Mickey Naish. As a familiar face in the hallways of Bishop Blanchet, it was to no one's surprise when Miranda returned to work as an English teacher. He did not remain just a teacher for long. During his tenure, Miranda served the school in a wide variety of roles: teacher, counselor, track and football coach, counselor, vice principal of academics and even interim principal.
His resume is only the tip of the iceberg of his impact on the school; his peers' interactions speak volumes on the true value of Pat Miranda.
"I've worked with a lot of people, and he was incredibly amiable to work with," said Bill Herber, a retired teacher, and wrestling coach. "He was so kind and loving; he didn't have a mean bone in his body."
Miranda's legacy lies in his dedication and proficiency in his work and the relationships with his coworkers.
Countless testimonies from his friends at Blanchet all convey the joy, happiness, and laughter he brought to their lives.
"He was really fun to work with," said teacher Dixie Strunk. "He was the best listener in my lifetime; when he listened, you would solve your own problems by talking it out."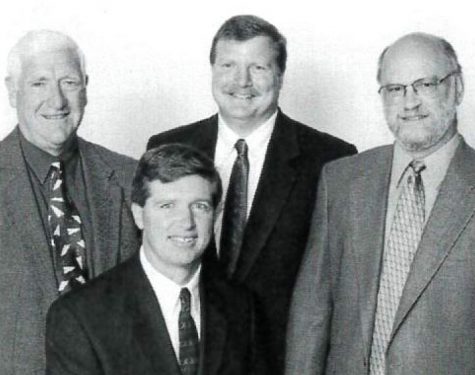 Not only was he kindhearted, but Miranda seemed to have a knack for being an excellent boss to his employees.
"He had a gift of making people want to the best versions of themselves," said veteran teacher Kerry Burrows. "Miranda never micromanaged and trusted others to do their job and do the right thing with integrity."
Many of his coworkers held him in high regard.
"A great guy to work for, straightforward in interactions and clear in letting you know what he wanted," corroborated band director Sean Richarz.
Most people that interacted with Miranda were left with a positive impression.
"The students loved him [Miranda] and the faculty adored him," said Vice Principal of Student Activities Chuck Bocian.
Miranda was not only great with other people but also possessed an astounding dedication in his work for Blanchet.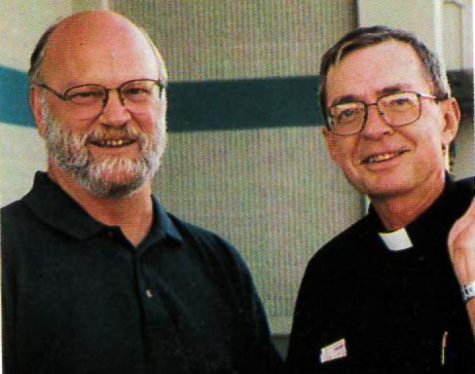 "[He was] Definitely the heart of everything at Bishop Blanchet," said Richarz.
Since its establishment in 1954, Bishop Blanchet has undergone many changes in this time period to come to its current state. Miranda is responsible for some of the improvements. He helped usher in the notable change of the block schedule that the school utilizes today.
"[Miranda was] one of the cornerstones of Bishop Blanchet and helped develop many academic programs in place today," said Bocian. "He kept Blanchet strong during tough times because he was always looking for ways to improve."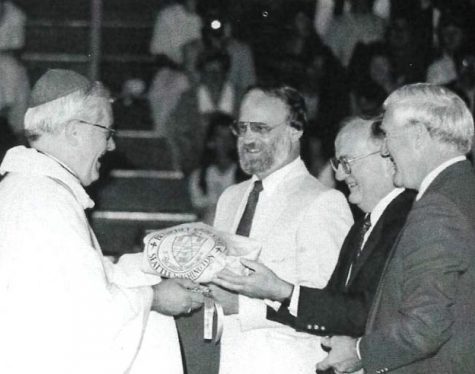 A dedication was also noted as one of his greatest strengths.
"He was a late owl," said Strunk.
Miranda was known to refuse to put off work until it was adequately completed, regardless of the time commitment.
"It was not uncommon for him to be working on students' schedules until 2 or 3 in the morning," said Richarz. "He loved Blanchet and was totally committed to the betterment of the school."
Beyond his work, Miranda had a well-rounded personality with many interests. He was a comedian, amateur photographer for the school, and was very smart and perceptive on the subject of education.
"He had a noticeable dedication to the Blanchet community, supported everything, every event," said Richarz.
If the testimonials are not sufficient proof of the significance of Miranda and his impact on the school, then the penultimate evidence lies in the students. The student body chose to name the street in the heart of the school after someone they believed to embody the heart of Bishop Blanchet and changed the One True Brave award, one of the highest honors received at Blanchet, to his namesake. This is truly the sign of a man who loved the work he did and was equally loved by the people he worked for.
About the Writer
Liam Tracey, Reporter
Liam Tracey, a senior at Bishop Blanchet, mainly reads the Seattle Times and occasionally the Wall Street Journal. He listens to NPR and watches news programs...