Singer and songwriter Katie Kate reflects on her newest album, "Nation"
Katie Kate has many talents: she can spit out a rhyme before you can blink, she can craft atmospheric beats, and she always gives an unshakable live performance. Each one of her albums is a journey through her thoughts and mind. Growing up in upstate New York, but moving to Seattle to study classical music at Cornish, she has now become a fixture in the always growing Seattle music scene.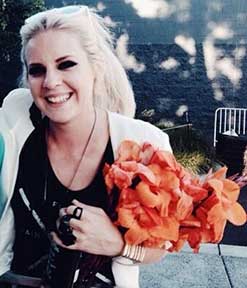 One of the most interesting songs on Nation, titled Persephone, still remains one of my favorite songs of this year. What inspired you to write this song? Did you feel a personal connection to the mythological story of Persephone?
I do feel a connection to Persephone. She had a sort of dual role forced up on her, for part of the year, she's a goddess of light, for part of the year she rules the underworld. I think the song reflects that, but it wasn't the intent going in. When writing I was more focused on the dilemma women face daily, the idea that we're supposed to be all things to all people, good and bad, helpless but independent, yet somehow untouched by the unfairness of it all. But I'm also pretty into pomegranates, so there's that.
What musicians influence you and your creative process? Who do you look up to in the music industry?
My number one influence is Kate Bush. If you don't know her, look her up. She is completely unique. She has the courage to be an individual and the chops to back it up, and her music is just so important on so many levels. I'm also really influenced by folks like Kendrick Lamar, Yung Lean, Elliott Smith, Missy Elliott… the list goes on and on.
I've always thought Nation was a very confident record, and that confidence was a big theme throughout the album. What would you say is the most prominent theme on Nation?
You know, I don't think I would say that. I think insecurity is more of a theme. I am mostly attempting to make a spot for myself in music and in the world, which can both be pretty hostile places for someone who doesn't color in the lines. I have found much unhappiness in trying to be someone else for other people. Nation is really about going within myself, analyzing my thoughts, taking signals from my dreams, attempting to make it okay that I'm this weird person that people don't really know what to make of. I am me because I have to be. I assert confidence on this record, but it's a tenuous confidence, and it almost feels like it could give out at any moment. Like Rushmore is less of an assertion and more of a mantra, if that makes any sense. Sorry if that's not terribly inspiring, but it's the truth.
What was it like switching up your sound for this record and adding drums by Lena Simon and Trent Moorman? Was it a difficult transition, or did you feel like it needed to happen?
The drums on the record are all by Trent Moorman, and I have Lena play with me in some live shows. I think it was the next logical step from my bedroom produced record. It was important for me to experiment, and I really liked the sound of electronic drums mixed with acoustic. They're both super talented so I really lucked out.
Looking into the future, what's next for Katie Kate?
I'm booking some touring gigs right now and I'm always writing. I sort of feel like doing some etudes and putting out a few smaller projects for the time being. I think I have some more experimenting to do before I make another big record, but I am always plotting (mwuahahaha) and thinking big. Always!