JV Girls Soccer keeps on rolling
JV Girls soccer has been on a roll of sorts since their win against Ingraham on Thursday September 12. Yet their record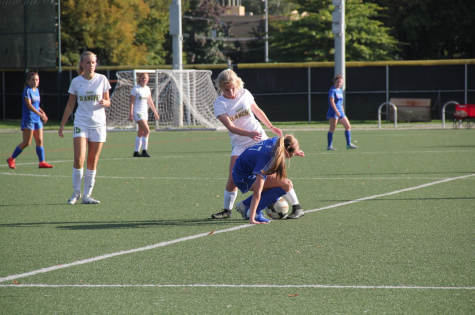 might not reflect that they have been fighting to get better each and every week.
The girls have fought these last game couple of games. Already having three shutouts in their first 5 games and scoring over 2 goals in each of their shutouts.
Since our last story, the girls have gone 2-2. They have beaten Nathan Hale on Tuesday September 17th, Bainbridge on Thursday September 26 but also losing to Seattle Prep on Tuesday September 24th, Inglemoor on Saturday September 21 in a nail biter.
The record is not showing the growth that the girls have had this season. Many people close to the team feels the sense of togetherness the girls feel.
Many girls on the team have been very excited about how the new season has been going. One such player had a vivacious opinion on how the JV Soccer season has been going.
"I'm very excited for this season and for the chemistry I feel with the girls" said sophomore Center Midfielder Rosalyn Keppler. "We've been very good; we've won a lot, lost a little, but we feel confident for the rest of our season."
The girls are looking forward to their next games on Tuesday Oc tober 1st against Lakeside High School at Mickey Naish Field at 7:00 pm.
About the Contributor
Abial Gebremedhin, Reporter
Abial Gebremedhin , a first year journalist for the Miter,  is senior at Bishop Blanchet. Abial loves to watch CNN, read ESPN The Magazine for the article...