Girls Varsity Basketball Great Start to the Season
Hang on for a minute...we're trying to find some more stories you might like.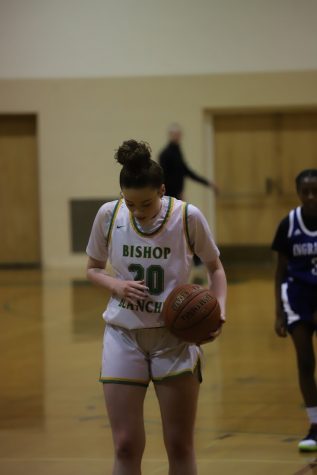 The Bishop Blanchet Girls Varsity Basketball has started off strong and are about half way through the season. The girls overall record is 9-3 and their Metro League record is 6-2. In the Mountain division within the Metro league they are placed in 4th. They've played some tough competitors in the Metro League including Eastside Catholic, Garfield, and Shorecrest. The girls have been training for a couple months and have not stopped even over the holiday break. They have strong upperclassmen leading the team including senior Minnie Miller and juniors Tayliah Clark and Ava DiPietro. They also have a strong freshman Maddie Matson helping lead the Braves.
"The team dynamic sets the whole mood of the game," said Clark. "I love playing with the other girls on the team."
Coach John Augustavo is the new head coach of the girls basketball team. He has led the very talented girls to many victories and continues to keep them going, and hoping for a spot in State Tournament.
They have a lot more tough competition ahead of them. They have to face 8 Metro teams and 3 of those teams are raked in the top 10 in the State. The Braves are starting their first quad games where JV boys and girls as well as Varsity boys and girls play back to back on a Friday night. The Blanchet students and staff love to watch the girls play and cheer the team on. Blanchet cheers on the girls team as the continue through the rest of the season.