Lacrosse Returns to the Turf
After a year hiatus the Blanchet Girls and Boys Lacrosse Teams will be returning to Mickey Naish for a season like no other.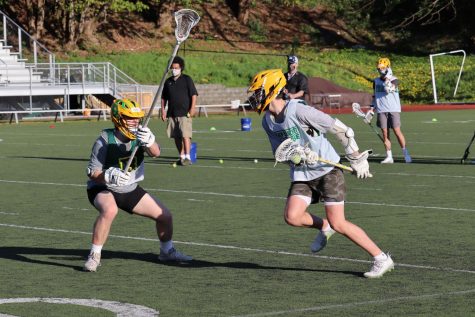 For the first time since 2019 the BBHS Lacrosse teams will get an opportunity to play in the Metro Season Two bracket. As the COVID vaccine keeps getting distributed old normalities are slowly coming back. With these normalities come contact sports like lacrosse. All the players are masked up and ready to hit Mickey Naish for daily practice and weekly games until June. Both the boys and girls teams are especially excited to compete after off season training. 
"Due to a short season we only have one Varsity team instead of having a JV team as well," said Senior Reilly Cartwright "however this is going to make us closer as a team and make such a memorable season. The excitement is almost uncontrollable due to the fabulous weather and our amazing coach Tony. The weather does cause more sunblock for some of us, but we power through. Lacrosse season has finally come."
The girls team is led by Tony Olney, who helped found the fairly young Girls Lacrosse Program. The six week season will include games against other North Seattle schools. The exuberance the players and coaches are beaming with is evident through the demeanor of the student athletes who have waited to long to play. This excitement is not reserved for the girls team, the boys are just as ecstatic to return to the field. Senior teammate James Trainer described a little insight on how the team is looking this year.
"The boys are looking good, we are gonna lay the hammer down 24/7," said Trainer.
Without a 2020 season the boys team is trying to come back fresher than ever with a program made up of many young athletes. The upperclassmen on the team are setting a tone of hard work this season, and with that comes hope for victories. 
Though many Seniors lacked a recruitment cycle there are a couple of athletes that will continue to play at the collegiate level. James Trainer at the University of Montevallo and Carson Keller at Otterbein University. 
DeJon Hush is the head coach of this team and from the sound of it, the whole squad is ready to have a competitive season.
Both the BBHS Girls and Boys lacrosse teams are beaming with hope for a strong season back on the turf. They have a short time period to show the community their strength and perseverance during these unprecedented times. Lacrosse season has finally come, and the Brave community is ready to watch these athletes excel on the turf.