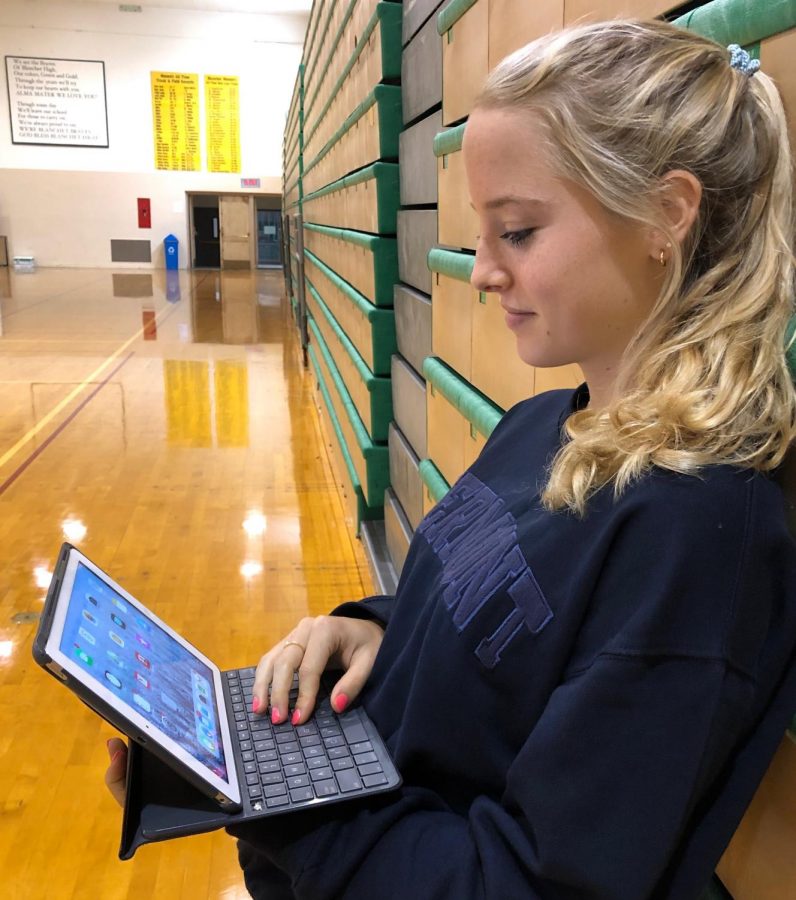 Katie O'Kane, a senior at Bishop Blanchet High School,  loves to read the school newspaper and is very excited to now be able to help write it. She enjoys hearing about current events and seeing what is going on in the world today. She is particularly interested in keeping up on the lives of her friends, celebrities, and political figures through social media like Instagram. 
She loves to play soccer and played for the BBHS Varsity soccer team her freshman year. She now is enjoying her last year in high school by attending as many sporting events as possible. She always cheers on her fellow Braves, especially the girls soccer team. She hopes to attend as many possible games all across the board of sports. If she wasn't so busy with club soccer, she would surely be playing on some of the BBHS sports teams.
She hopes that she can make an impact on journalism this year. She hopes to write about sports teams and give the people who couldn't attend the game a chance to feel like they were there with her articles. She hopes to interview some of the members of these sports teams to get the inside scoop on what's going on. 
Katie O'Kane, Reporter
Feb 12, 2020

Bonded and winning, JV Girls finish season

(Story)

Jan 26, 2020

The BBHS JV girls basketball team is basing their 2019-2020 season off of hard work and communication.

(Story)

Jan 15, 2020

JV Girls Basketball Team Continues to Protect their Undefeated Season

(Story)

Jan 13, 2020

Senior Captain Helena Dougherty Leads the BBHS Soccer Team Through a Successful Season 

(Story)

Nov 08, 2019

Golf Seniors Celebrated in an Exciting Senior Night at Jackson Golf Course

(Story)

Oct 01, 2019

Freshman Max Herendeen takes the BBHS golf team by storm

(Story)

Sep 18, 2019

Golf team already striving, and it's just the beginning.

(Story)