Class of 2019 Dances an Enchanted Evening Away
It is the culmination of so many young adults high school careers- prom. For the BBHS seniors, expectations were as high as the feeling of the Fremont Foundry, and through years of fundraising and months of planning, the final swan song did not disappoint.
The theme set the stage- "An Enchanted Evening". As Braves began to arrive, dressed in their suits, dresses, or whatever made their heart sing (or dance), the energy in the Fremont Foundry was high. Followed by a dinner, the senior class danced the night away.
On the second floor of the foundry, friends gathered for photos in front of the scenic backdrop the patio area of the foundry offers. Many students had the opportunity to converse with peers whom they have not spoken to in a while, bringing the class of 2019 even closer  together before diplomas are to be handed out just 2 short weeks later.
Senior Eliza Merriman took note of the emotional significance of the evening.
"It was a great end to senior year," said Merriman. "I'm glad I got to have fun with my classmates."
Merriman was not the only member of the 2019 class who remembered on the evening with emotion when asked, as her classmate Peyton Weber shared similar feelings.
"It was a night I will love and remember forever," said Weber. "It was a great way to end the year with my class."
As the class of 2019 prepares for the always hectic festivities of finals and graduation, Prom was an evening that many could take a deep breath and be present with classmates one final time before their final days in the halls of BBHS.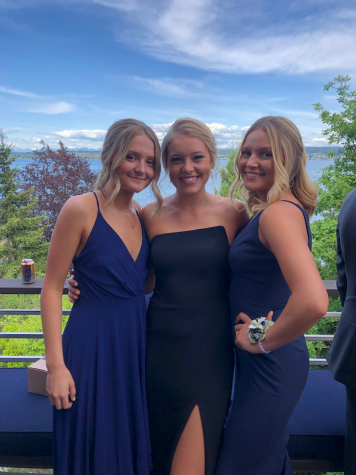 Through much hard work, an enchanted evening will live on long after the final dance has ended.
About the Writer
Cole Thomas, Editor
Cole Thomas, a senior at Bishop Blanchet, is in his second year on "The Miter" staff, his first as an editor.

Cole gave a fresh perspective to...