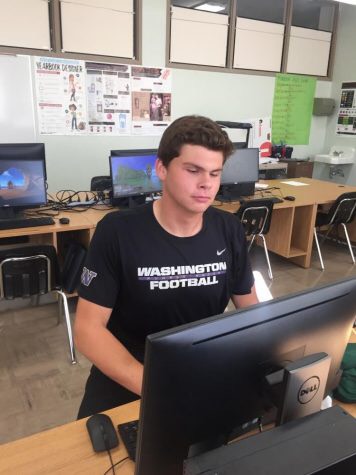 Cole Thomas, a senior at Bishop Blanchet, is in his second year on
"The Miter"
staff, his first as an editor.
Cole gave a fresh perspective to The Miter last year with his in depth look on the sports world, giving a unique look at many professional and collegiate leagues that go beyond the play on the field. A consistent reader of popular sports websites such as ESPN, Bleacher Report, and 247 Sports, Cole hopes to one day turn his passion into a career and write for one of these sites.
He also enjoys writing on current events and reviews of "hidden gem" restaurants around the greater Seattle area. Cole hopes to earn a degree in journalism by using the skills he has learned from his 2 years at The Miter after high school. He also hopes to play college football.
Cole Thomas, Editor
May 24, 2019

Class of 2019 Dances an Enchanted Evening Away

(Story)

May 21, 2019

New Findings Link CTE to Traumatic Brain Injuries, not Concussions

(Story)

May 21, 2019

Karisa Klepper's passion goes far beyond jump kicks and handsprings

(Story)

May 21, 2019

President Trump holds controversial Florida rally, speaks on Puerto Rico, Immigration

(Story)

May 04, 2019

Billie Eilish Wakes up Audiences in New Album

(Story)

Dec 15, 2018

Breaking Down the 2018 College Football Bowl Season

(Story)

Dec 05, 2018

Snowflake U: An interview with Sharyl Attkisson

(Story)

Oct 15, 2018

Believe in Something. Even if it means Politicizing Everything.

(Story)

May 22, 2018

"A Quiet Place" Silences Audiences

(Story)

May 15, 2018

Draft Day: The Good, The Bad, and Everything in Between

(Story)

May 15, 2018

Braves are on the Home Stretch for 2018

(Story)

May 10, 2018

Seattle on the Silver Screen

(Story)

Apr 30, 2018

Mark Zuckerberg Faces Congress on Capitol Hill

(Story)

Apr 19, 2018

Braves Put on Strong Showing Against Eastside

(Story)

Apr 06, 2018

Knowledge Bowl heads to State

(Story)

Mar 19, 2018

Varsity Track Ready to Hit the Ground Running

(Story)

Mar 05, 2018

Money, Lies, and the FBI Investigation on College Basketball

(Story)

Feb 27, 2018

Assaggio Ristorante Brings Taste of Italy to Downtown Seattle

(Story)

Feb 21, 2018

Braves End the Season on the Eastside

(Story)

Feb 06, 2018

Super Bowl Sunday by the Numbers

(Story)

Jan 30, 2018

Ultimate Frisbee in Downward Fling

(Story)

Jan 11, 2018

Boys Basketball Cools Down after Successful end to 2017

(Story)

Jan 04, 2018

Boys Hoops Falls In Tough Road Matchup

(Story)

Dec 11, 2017

Breaking Down Bowl Season With the Huard Brothers

(Story)

Dec 07, 2017

How Football in the State of Washington has Become One of the Country's Most Premiere Showings

(Story)

Nov 20, 2017

Boys Hoops Looks to Make a Statement in 2017-18 Season

(Story)

Nov 08, 2017

The Ball is Rolling for Intramural Sports

(Story)

Oct 16, 2017

Braves Continue to Hit their Stride at Curtis Invitational

(Story)

Oct 02, 2017

Football Metro Divisions Realigned for 2017 Season

(Story)

Sep 21, 2017

Albes Excited for New Beginning at Blanchet

(Story)